***************
Our Hours:
Monday: Closed
Tuesday: 4:00PM-9:00PM
Wednesday: 4:00PM-9:00PM
Thursday: 4:00PM-9:00PM
Friday: 11:00AM-9:00PM
Saturday: 11:00AM-9:00PM
Sunday: 11:00AM-8:00PM
Open For In House Dining And Take-Out.
Phone (413) 663-8740
**************************************
Fridays & Saturdays
We Are Still Offering Our Famous Prime Rib As Well.
***************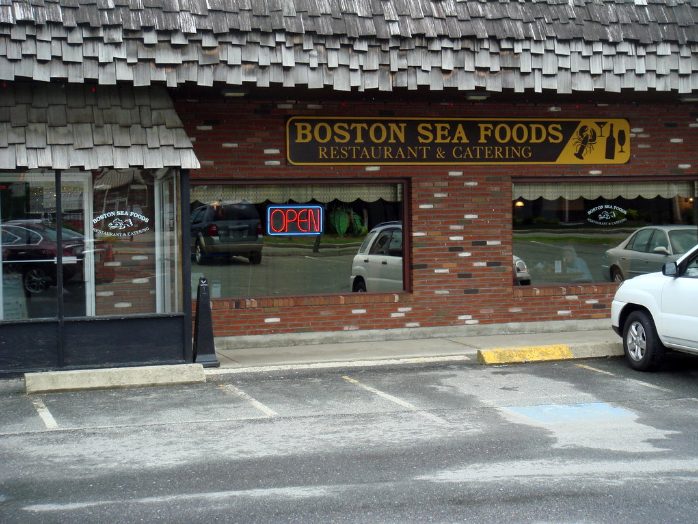 Boston Sea Foods Restaurant & Catering has been a dining favorite of Berkshire residents and visitors alike, for many years.  From Fresh Seafood to our "All You Can Eat Specials" on Tuesdays, Wednesdays, Thursdays and Sundays, to our delicious, slow roasted Prime Rib of Beef, served Fridays and Saturdays after 4PM.  Start your meal off right with one of our many appetizers, or a cup or bowl of our homemade chowder, bisque or soup.  We offer broiled as well as deep fried seafood, including cod, sea scallops, haddock, salmon, shrimp, clams and our ever popular fish & chips, fisherman's platters and combination platters, all FRESH and DELICIOUS and never disappointing.  In addition, we feature an excellent selection of beef, chicken, pasta, sandwiches, half pound burgers, crepes, classics such as meatloaf, hot roast beef sandwich, eggplant parmesan and a children's menu.  If that's not enough, perhaps one of our "Specialties" such as Orange Ginger Glazed Salmon, Seafood Casserole, Raspberry Coconut Shrimp, Baked Salmon with Lobster Stuffing, Lazy Lobster, or a Pound of Alaskan King Crab Legs might be to your liken. Compliment your meal with your favorite beer, wine or cocktail and finish your visit with the magic of dessert.
More Than A Great Restaurant.
Boston Sea Foods, located in the Oasis Plaza, has been a local catering favorite since 1979. As new ownership took over in 2003, the tradition continued on. Years later, we are still going strong, servicing the public with great food in a comfortable and aesthetic atmosphere with quality service that we pride ourselves on. Our commitment to the community is one of our top priorities and we realize that customer satisfaction is our main goal.
Currently, Boston Sea Foods Catering services over 150 on and off premise functions a year. In December 2009, we opened our In-house Banquet Room, known as the Charter Room, which accommodates up to 70 people. This room is used for many different private functions: Baby and Bridal Showers, small wedding receptions, rehearsal dinners, funeral receptions, birthday parties and retirement parties, just to name a few. Our off premise catering has traveled as far north as Manchester, VT and into Southern Berkshire County as well.
For larger, offsite functions, we welcome the opportunity to cater your event at a location of your choice. If you are in need of a venue, may we suggest the American Legion in North Adams, where we are the primary caterer, the Forest Park Country Club in Adams or the Cheshire Rod & Gun Club located in Cheshire, MA
There are many different options on our catering menu. We are available to customize any menu that best fits you and those attending the event which you are planning. We would be happy to meet with you to discuss and prepare a menu.
Call Omar At (413) 663‑8740.
Catering - Banquets - Gift Cards